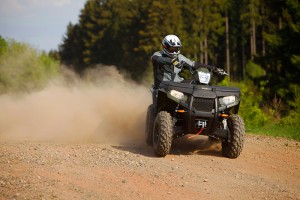 All-terrain vehicles (ATVs) are meant for off-road use, but lawmakers are increasingly choosing to allow them on public and private roads, including paved roads. According to the Consumer Federation of America (CFA), 35 states now allow ATVs on some roadways, and since 2004, 22 of the states that allow ATVs on roads have expanded the roads they are allowed to access. In recent years, about two-thirds of all fatal ATV accidents have occurred on public or private roads.
ATVs Allowed on More Roads
The CFA, the U.S. Consumer Product Safety Commission (CSPC), the Insurance Institute for Highway Safety (IIHS), and even ATV manufacturers say that ATVs are not safe for use on roadways. They simply aren't designed to handle well on road surfaces, especially paved roads. But, in response to demands by ATV riders who want more road access and easier access to off-road riding areas and those who believe it will increase tourism and the resulting revenue, more and more jurisdictions are allowing ATVs on public and private roads.
In 31 of the 35 states where ATVs are allowed on paved roads, it is a local issue with each jurisdiction deciding whether to allow ATVs on their roads and to what extent. The National Highway Traffic Safety Administration (NHTSA) does not have jurisdiction over ATVs at this time.
The push to expand ATV roadway access has come largely from ATV riders themselves. While the will of the people must prevail, riders need to be informed about the danger of taking ATVs on roadways. New riders may even assume that if ATVs are allowed on the roads, then it must be reasonably safe.