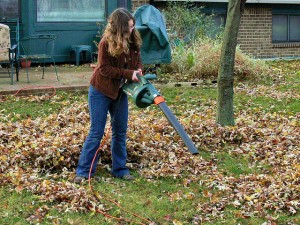 A leaf blower can accomplish many lawn tasks quickly and with far less effort than doing them by hand. However, leaf blowers can be very dangerous to both the operators and others nearby. They can move debris at up to 200 mph. Some gas powered leaf blowers are very loud, and may even be banned in your neighborhood. Both gas and electric powered models can cause serious injuries if you do not take the proper safety precautions and a defective leaf blower can cause serious injuries even if you do.
Basic Leaf Blower Safety Tips
Read the manual, even if you have experience using other leaf blowers.
Wear the proper clothing and safety gear including protective goggles, hearing protection, heavy gloves, sturdy non-slip shoes, and a dust mask or respirator.
Do not use a leaf blower inside or in a poorly ventilated area.
Only operate the leaf blower when bystanders and pets are at least 50 feet away.
Never point the leaf blower at people or pets.
Only use the leaf blower on solid ground, never on a ladder, roof, or in a tree.
Do not operate a leaf blower when you are intoxicated, tired, or ill.
Never blow debris toward open windows or doors.
Never leave your leaf blower running while unattended.
Avoiding Leaf Blower Rage
Leaf blowers are controversial equipment and there are many who want to see them banned because of the noise they make as well as the negative effect on air quality. Please be considerate when operating your leaf blower:
Check your local ordinances to make sure you are in compliance.
Do not start very early in the morning.
Make sure you muffler, air intakes, and air filter are in good condition before each use.