Memorial Day through Labor Day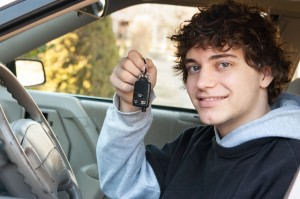 Car accidents are the number one cause of death for teens. Memorial Day, the unofficial start of summer, marks the beginning of the 100 deadliest days for teen drivers each year. According to the National Highway Traffic Safety Administration (NHTSA), in 2012, more than 1,000 people were killed in teen-related crashes in the U.S.
When you think about it, it should come as no surprise that more teens are involved in accidents during the summer. School is out so they're out driving around more. The whole mindset of summer is about having fun and enjoying life, not just getting from one place to the other or staying focused on commitments and responsibilities. Kids are not just driving more, they are going out in groups and staying out later on a daily basis – not just weekends. And therein lies the danger. Several of them which can become a deadly combination.
Passengers
Driving with passengers in the vehicle greatly increases the likelihood of a teen having an accident. A study by the National Safety Council found that the risk of getting into an accident increases by 44% when a teen has passengers in the vehicle.
Night Driving
According to the Insurance Institute for Highway Safety (IIHS), the fatal crash rate of 16 to 19-year-olds is four times as high at night, per mile driven. Night driving can be challenging for people of all ages, and it takes practice to master the extra challenges such as not getting blinded by oncoming headlights.
Texting and Cell Phone Use
Texting has surpassed drunk driving as the leading cause of teen driver death. Summer is all about socializing, having fun, and sharing those experience. That means that teens are even more tempted to get on the phone and coordinate their activities, and to take selfies and post them while they are out and about.
Teen-Parent Safe Driving Agreement
It is important to make sure your teens are aware of the risks and take precautions to enhance their safety during summer driving season.  One way to do this is to enter into a safe driving agreement with your teenager.  AccidentAttorneys.org created a written Teen-Parent Driving Agreement modeled after a similar agreement developed by the American Academy of Pediatrics. This agreement includes consists of a series of promises by parents and teen drivers as well as mutually agreed-upon penalties for violations , such as loss of driving privileges for two weeks.
Download Your Parent-Teen Driving Agreement Here
Psychologists agree that clearly outlining the negative consequences of breaking an important rule increases the chances it will be followed.  Once it is signed, we recommend taping it to your refrigerator.