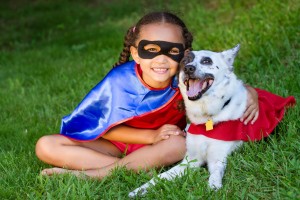 Superheroes are all the rage in 2015. Avengers: Age of Ultron came out on May 1. Ant-man is scheduled for release in July, followed by Fantastic Four in August. We would like to take a moment to recognize some real life heroes.
Sako
Sako is a four-year-old king shepherd, who was recently inducted into the Purina Animal Hall of Fame for saving the life of his teenaged human companion, Joseph Phillips-Garcia, after a car accident. Joseph and Sako were the only survivors after the vehicle they were riding in went off the road, down a steep hill, and more than 100 yards into the forest.
Joseph suffered a broken collar bone and broken femur in the accident. During the 40 hours it took for rescuers to find the pair, Sako stayed by Joseph's side keeping him warm at night so he did not go into shock, helping him drag himself to a creek to get water, and tearing into the woods to fight off approaching coyotes.
Delicia and Brendon Wright, Andrew Crane, and Isaac Yow
Delicia, 8, and Brendon, 10, were playing in a park in Sprague, Washington when a man snatched their 22-month-old brother, Owen, from his stroller and ran off with him. The siblings immediately ran after the kidnapper, and Delicia's screams got the attention of teenagers Andrew Crane and Isaac Yow who could see that something was wrong and joined in the chase.
The kidnapper abandoned Owen in an empty lot, unharmed, and kept running.
Heroes Come in All Shapes and Sizes
Comic book and movie superheroes wear capes and fly around but real everyday heroes come in all shapes and sizes.
To read more about everyday heroes or if you would like to nominate an everyday hero you know, visit HeroHighlight.com.