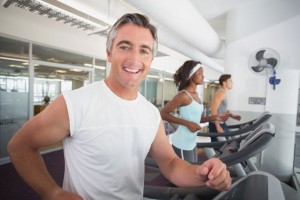 In the wake of the tragic death of Dave Goldberg, we want to remind you of some basic safety tips for using treadmills. As you probably know, Mr. Goldberg died last Friday from a head injury he suffered while using a treadmill. He was only 47 years old. Mr. Goldberg was chief executive of SurveyMonkey and is survived by his wife Sheryl Sandberg, chief operating officer of Facebook. In 2012, almost 460,000 people went to ER's for treadmill injuries. Of those, about 32,000 were either hospitalized or dead on arrival.
Treadmill Safety Tips
Learn to operate the treadmill before you get on. Even if you use treadmills on a regular basis, when using a machine that is new to you ask someone to show you how it works or read the instructions before getting started. Today's treadmills have complicated controls and options. One small difference in the controls can make a huge difference in how the machine behaves and you don't want to be taken by surprise.
Be sure to check for product safety recalls. Like all mass produced products, there are sometimes safety defects or mechanical problems. Make sure your treadmill hasn't been recalled from the manufacturer.
Learn and use the safety features. Most treadmills have some kind of emergency stop device. Some have a button, but the safer ones have a cord that you attach to yourself. If you fall it yanks the cord and turns the treadmill off.
Start slow. Even if you want an intense workout, give yourself time to get used to walking on the treadmill and the rhythm before cranking it up.
Don't hold on forever. When you are new to using a treadmill you should hold on. Once you get the hang of it, it is safer to walk or run normally without holding on to the handles. Holding on can compromise your balance and posture, making injuries and falls more likely.
Pay attention to how your feel. If you experience chest pain, shortness of breath, lightheadedness or dizziness, you need to get off the treadmill until the risk of passing out subsides.
Avoid distractions. No one wants to just walk or run on a treadmill, you are going to listen to your headphones, watch TV or something, but wait until you are familiar with the machine you are using. Also, be careful about your phone. Talking is one thing, but answering calls and sending texts can be hazardous when you are on a treadmill.
Don't be alone. Only use treadmill when there are other people around who can help you right away if you are injured or unconscious. At the very least, have your phone on you so you can call for help, and make sure someone knows you are working out and when you should be checking in to let them know you have finished.