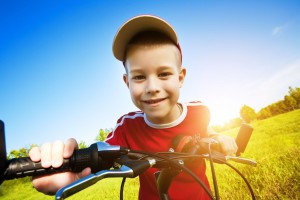 According to new research, kids are most likely to be hit by cars during springtime, in the afternoon and even hours, near schools and bus stops, and while they are unsupervised. The findings were presented at the 2015 Annual Meeting of the American Academy of Orthopaedic Surgeons (AAOS), in March. It makes sense, when you think about it, but it is a good reminder to talk to your kids about pedestrian safety now, when they are the most likely to get run over.
According to the AAOS press release, pedestrian accidents are a leading cause of death for children. Here are some of the study findings:
42% of injuries occurred between 5:00pm and 9:00pm
29% occurred between 2:00pm and 5:00pm
That adds up to 71% of child pedestrian accidents occurring from around the time that school lets out through the evening
13% of child pedestrian injuries occurred in June – that was the month with the most injuries
The other spring months followed
70% of the injuries occurred mid-block, rather than in a crosswalk, parking lot or on a sidewalk or private property
The majority of the accidents occurred without parental supervision
Accidents clustered around schools and bus stops that were near schools
Researchers reviewed the medical records of 100 child pedestrian emergency department visits at St. Christopher's Hospital for Children in Philadelphia, Pennsylvania from January 1 to December 21, 2012. That included ambulance dispatch data, not just walk-ins.
Although the study included a small number of patients, it seems to reflect what can be expected. Kids running around unsupervised after school in nice weather are more likely to wander out into traffic mid-block and get hit by cars. So please, take a moment today to go over the basics with your child, once again.
If your child was hurt in an accident seek help before it's to late. Browse our top rated accident attorneys today.