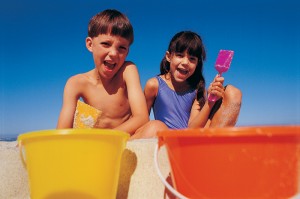 July is UV Safety Month. Exposure to the sun's rays can have deadly consequences, as well as causing non-fatal health problems. There are many misconceptions about UV safety, and believing that you are adequately protected when you are not can put you at serious risk for skin cancer, eye damage, and other health problems. According to the Environmental Protection Agency (EPA) one American dies from skin cancer every hour. Please, take a minute to learn the facts about UV exposure.
Myth #1 You Aren't at Risk for Skin Cancer if You Don't Get Burned
Both UVB and UVA rays cause skin cancer. UVB rays cause sunburn, but UVA rays do not. UVA rays do cause premature aging, but that takes time to show up. While a sunburn is a definite warning sign that you have been exposed to a dangerous amount of UVB, non-burning rays can be just as deadly over time.
Myth #2 You're OK if You Stay in the Shade
Staying in the shade is a great way to protect yourself from UV exposure, but you still have to be aware of reflective surfaces. Concrete, sand, snow, water and other surfaces can produce reflected UV rays that are even more dangerous than direct rays because they are intensified.
Myth #3 UV Rays Don't Pass Through Windows
That used to be the common belief, but now we know that dangerous UVA rays do pass through glass. According to the Skin Cancer Foundation, at least 50% of UVA can pass through windows and more than 60% pass through car windows.